Mobile World Congress Barcelona
Reimagine Your Network to Connect The World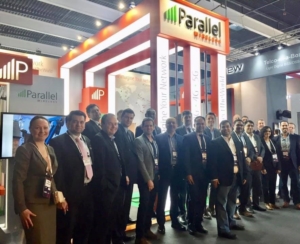 MWC 2019
In case you missed us at Mobile World Congress 2019, here is a recap of what we shared: our ALL G software will help Zain and Kalimat modernize their networks to better meet their end-users needs! We also announced our partnership with Comba telecom. If you're interested in learning more about how Parallel Wireless all G software can help you bridge the digital divide, register to our upcoming webinars!

2G/3G/4G/5G Unified Software Platform
At TIP summit, Vodafone and Telefonica expressed the importance of disaggregating hardware and software to make RAN open, easy and cost-effective to deploy and maintain. Both operators highlighted the necessity of software-based network solutions being able to support ALL Gs (2G, 3G, 4G, 5G).
Register to our webinar
to learn how our ALL G software makes cellular networks unified, programmable, automated, agile and future proof to deliver an optimal network performance for all use cases: low density/high density, in-building services (IBS) or public safety 4G/LTE.
Register to our webinars!
Announcements