5G 4G 3G 2G OpenRAN Aggregator
Benefits
By disaggregating hardware and virtualized software, the Parallel Wireless OpenRAN software suite creates a unified architecture based virtual network functions on a COTS server for all outdoor or indoor deployment scenarios. It provides the following benefits: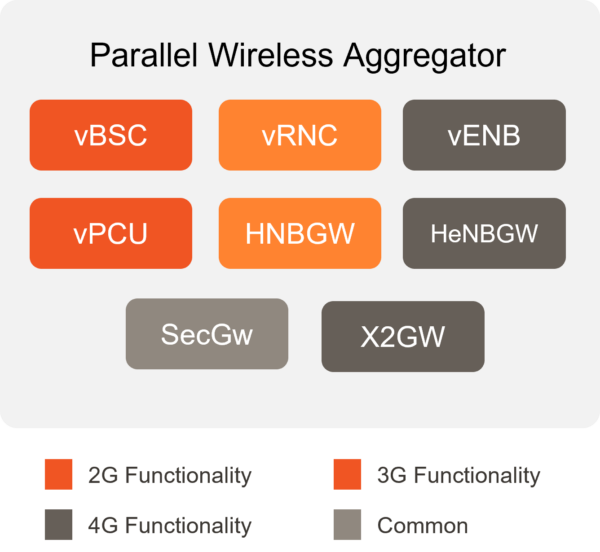 Unified OpenRAN Controller for 2G/3G/4G/5G: a unified software-enabled architecture for past, present, and future Gs
Deployment flexibility for 5G, 4G, 4G, 2G through consolidation of network functions and RAN/core interfaces
End-to-End Network Slicing for All Technologies:  enables mobile operators to offer differentiated services to their different customers and markets, with specific SLA, QoS in an economically-viable way across RAN and core through fully 3GPP-compliant interfaces and functionality, enabling interoperability across multiple vendors and allowing for modernization of networks
Cloud-Native Deployments: Parallel Wireless's fully virtualized, datacenter-agnostic and cloud-native architecture allows mobile operators to take advantage of the most modern web-scale technologies, including hyperscaling, to support the demands
Reduction in CapEx and OpEx: professional services spent on deployment or maintenance can be reduced by up to 80%. Overall project TCO can see reductions of 60%, when considering lower CapEx and OpEx
Deployment Options
The Parallel Wireless OpenRAN Aggregator can be deployed as a VNF. The overall solution is compliant with ETSI's NFVI architecture, agnostic to the underlying data center infrastructure so can use any Intel x86 server. The solution has been certified and deployed with all major market-leading hypervisors. Parallel Wireless has a strong partnership ecosystem in place with all leading vendors in the virtualization space.
Examples of deployment scenarios:
Coverage: providing new RAN coverage to areas without mobile service
Capacity / Densification: adding capacity to existing 2G/3G/4G networks
Network modernization: replacing outdated legacy technologies (i.e.: 2G, 3G) with newly virtualized functions, along with newer technologies like 4G and 5G, all with the same architecture
Network expansion: A use case scenario where a mobile operator deploys Parallel Wireless OpenRAN solution to extend and expand coverage as an addition to an existing network