Point of View: Interview with Hagai Offeck, Senior Director of Presales Engineering at Parallel Wireless
Welcome back to our interview series where we sit down with industry experts and leaders to discuss the latest developments and trends in their respective fields.
This time, we sat down with Hagai Offeck, Senior Director of Presales Engineering at Parallel Wireless. With over 20 years of experience in the wireless industry and a unique career path, Offeck had some very interesting insights for us. Keep reading to hear what he had to say about the telco industry, the most pressing challenges, and what the solutions might be.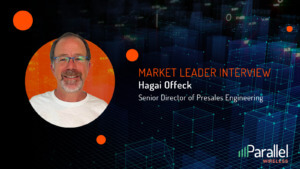 Tell us about yourself and your experience in the telecommunications industry.
I started working in the telco industry in 1999 at Orange (Now "Partner") Israel as a network planning & optimization regional manager, after working as an RF expert with phased array radar systems in the IDF. After that, I became a terminal equipment department manager, where I was in charge of all handset-type approval processes & SIM cards. Later, I became the network optimization department manager, where I led the of 4G LTE deployment in Israel. After accruing all this experience at Orange, I was part of a small start-up that managed all optimization and operation tools for operators developing a SON solution. I was then the CTO for CMG, a joint venture between Cellcom, Marathon, and Golan. During that time, I was leading the network development & the deployment of 5G.
So basically, I gained all of this telco knowledge and expertise being on the MNOs' side from SIM cards through access network towards network platforms. And then I found my way to Parallel, where I am now on the opposite side, as Sr. Director for Presales Engineering, and my customers are MNOs. It's an extremely unique perspective to have on the industry, and it's honestly helpful because I fully understand MNOs' pain points since they used to be my pain points.
How does Open RAN impact the ability of telecommunications operators to innovate and compete in the market?
Companies that offer Open RAN tend to be more flexible, more dynamic, and more willing to make adaptations according to market needs. We give control back to the operators by letting them buy their own hardware; we're putting the power back in their hands. When they want to change vendors, they can simply change software. They get to actually own their hardware, which really increases their ability to innovate, compete, and get creative.
How have MNOs' needs changed over the years?
Firstly, it's essential to understand that the network is much more loaded than it once was. Back in the day, each operator engineer was in charge of, say, a hundred sites. Over the years, each site upgraded from 2G to 3G to 4G, and so on and so forth. The network has become much more complicated and is now comprised of many more sites, technologies, and layers than it once was with the same engineering group, so now you have engineers who need to handle a lot more sites in a network with more complex needs.
This means that the need for tools and automation has become extremely high in order to improve the efficiency of operations.
Secondly, there's the commercial issue. Back in the old days, the prices for cellular services were quite high for the end user – business was profitable with very high ARPU. Now, consumers pay less, which means MNOs' ARPU went down dramatically. But while people are paying less for the service, they expect more from it. Since revenue has decreased for MNOs over the years, they can't invest as much, and they're always looking for ways to cut down on manpower and costs. This leads high load on the network elements as MNO are delaying their investments and the need to improve network utilization: MNOs want to make the most of the resources they already have.
What is the most common challenge for MNOs today? 
The primary challenge for MNOs is to keep up with customer expectations and growing demands for capacity. Basically, MNOs must learn to do more with less effort, less manpower, and less spending while keeping up with the competition.
I would say another challenge is to maintain added value since these days, MNOs need to fight not to become 'dumb pipes.'
And a third challenge is customer ownership, which used to be completely in MNOs' hands through the SIM card and is now shifting to handset manufacturers through the eSIM technology. In reality, they're providing customers with a platform that they can enjoy. But they need to fight to be perceived this way. One way they're fighting to maintain as much as possible is the roaming services because it's both added value and a way to increase their revenue.
What has been the biggest change in the industry in recent years?
One major change was the reduction in ARPU vs the increase of customer demands & complexity that push operators to search for ways to reduce costs, so they're searching for automation tools that can make this happen.
And another significant change is the transition to the cloud. Many operators have some part of the network already on the cloud, or they're in the process of transitioning as much as they can to the cloud. This transition might become a major headache for OPCOs because when you transfer, you need to pay a royalty to the cloud operator. So, operators are beginning to realize that they should create their own cloud environments to cut down on those costs.
How have these changes affected Parallel Wireless?
As part of the Open RAN ecosystem, Parallel is in the game to get part of this market. Customers are unhappy with the lock-in situation because it means they have to buy everything from a single vendor. So Parallel offers Open RAN as an excellent alternative that disaggregates between software and hardware. The disaggregation has 2 major benefits. First, it returns the HW ownership back to the OPCOs, who with the Open RAN approach can easily switch the SW and still utilize the existing HW. The second benefit is the flexibility to mix & match between vendors within the Open RAN ecosystem (open & standard interfaces) and the ability to choose their own HW vendor & COTS servers.
Since OPCO are now more price sensitive, vendor which is not producing it's own HW cannot compete with the traditional vendor's HW find it hard to compete the prices of the traditional vendors and as the "new kid on the block", OPCO are expecting to get lower prices than the traditional vendors. Parallel Wireless, like most of the Open RAN vendors, buys the hardware from a 3rd party and therefore can't beat traditional vendor prices.
What do you think is the most disruptive technology in the industry today? How do you think it will change things?
I would definitely point out Parallel Wireless' RAN Centralization, which is a new innovative approach that is nothing like the old CRAN approach, but takes it to a much higher level. RAN Centralization presents a way for operators to better utilize their existing access network and spectrum, and in addition to that, improve the power consumption without any degradation. On the contrary, they get better performance.
PW's centralization approach presents a different way of thinking and handling network resources & optimization by introducing cluster approach that add valuable tools to the network operation teams.
How will RAN Centralization help operators? 
RAN Centralization has the potential to postpone or even eliminate network investments for operators. It enables them to do more with their existing deployment and limited spectrum, existing sites, existing power, and existing facilities. They can potentially reduce the needed investment to support market's capacity needs, and the benefits are long-lasting.
How do you stay current on the latest advancements and developments in the Open RAN field? How do you implement these in your day-to-day?
Mostly reading and customer engagement – 1st, I'm a member of several sites for the telco industry but meeting customers on a daily basis provides the best input I can dream of. Many vendors believe they know what the customers need when they should really just ask them. Additionally, meeting colleagues at conferences and discussing the industry – having a great social network with old and current colleagues also helps me stay current on the latest developments.
What do you think sets Parallel Wireless apart from other Open RAN providers?
Firstly, our offering is more complete since we offer All G technology on top of the disaggregation and all other Open RAN benefits. Our wide technology offering and maturity allows us to offer brownfield deployment (on top of the greenfield one) without depending on old traditional vendor's equipment needed to support the legacy technologies. Brownfield deployment allows PW to showcase the real full benefits on our valuable proposition.
Secondly, our RAN Centralization approach sets us apart. This approach is completely different from what our competitors our doing, which gives us a big advantage."
With all the hype surrounding Open RAN, what do you think is holding it back from being more widely adopted? 
I would say one of the main challenges is that when customers hear 'Open RAN,' they expect low prices, which is unfortunately not the case. Since Open RAN providers buy the hardware from 3rd parties at full-price, and the volume of Open RAN complete ecosystem is still quite small, there are no low-price mass-production offerings.
Another thing holding Open RAN back from being openly adopted is the low investment in the technology. The big 5 tend to take the technology forward but without to many real investments. One of the reasons is the continuous chase for comparable feature set as the traditional RAN vendors, this will never happen due to the fact the R&D manpower comparing Open RAN to the traditional ones is far less. On the other hand, PW are offering a modest (including all the important one) feature set and providing on par performance in live network as the traditional vendors. We can meet KPIs like a traditional vendor, but our feature set is much smaller.
Where do you see Parallel Wireless headed?
That's a tough one. If the RAN Centralization approach and our new internal development will get the right opportunity and take off, that would really propel us forward. If operators keep chasing feature sets and comparing us together with our Open RAN competitors to traditional vendors, then Open RAN won't have a chance to thrive in the industry. Open RAN needs to be given an opportunity to prove itself in the market.
In conclusion, our interview with Hagai Offeck provided valuable insights into the current state of the wireless industry and where it might be headed. With years of experience on the MNOs' side and now representing the side of the software providers, Hagai truly does provide unique discussion points. We hope this interview serves as a helpful resource for anyone looking to stay up-to-date on the latest developments in the wireless industry.
Stay tuned for our next Market Leader Interview.