Point of View: Interview with Ramin Attari, RVP MEA, at Parallel Wireless
We are back with our Interview series, where we sit down with industry experts and leaders to discuss the latest developments and trends in their respective fields. This time, we had the honor (and pleasure) of sitting with Ramin Attari, RVP MEA, at Parallel Wireless. A true expert, with over 30 years of experience in the Telco industry gained in a variety of very interesting places, Ramin shared some very interesting insights with us.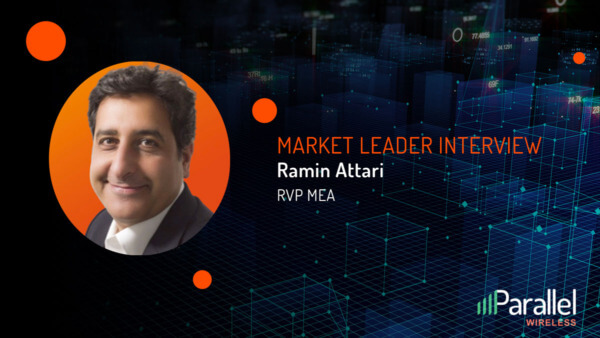 "Ramin, tell us a little about yourself and your experience in the telecommunications industry."
I've spent the last 33 years in the telco space, filling a variety of roles. I started with BT, who sponsored my degree in electrical engineering at King's College in London. I stayed with them for five years. From there I moved on to Nortel in 1995. I started in pre-sales and moved to pre-sales management and then product management and then eventually sales. In 2004 I moved to Dubai as a VP for MEA and stayed with Nortel until 2009. I then had a 3-year stint with Avaya with responsibility for data networking across EMEA. In 2013 I joined another British company, MYCOM OSI who specialize in Service Assurance for CSPs, where I was initially responsible for MEA and India, before eventually moving on in 2019 to responsibility for Global Sales.  In 2021 I joined Parallel Wireless and have enjoyed being part of the Open RAN movement since it is a very exciting development in the telco industry.
With which  regions do you mostly work?
I focus on customers in the Middle East and Africa region.
What are the main challenges of these regions?
If you look at the region, it's far from homogeneous. Geographically, it's enormous, spanning one and a half continents with, to put it mildly, a broad range of linguistic, cultural and economic diversity. It is only logical that the mobile network landscape will be just as varied. The GCC is where you typically find more advanced infrastructure, whereas if you move into certain parts of Africa, you will encounter increasingly less development, especially in rural areas. It's been satisfying to be able to work with such a scale of diversity in this region.
In 10 years time, what changes do you expect to see in the telco networks of the region?
Over the last ten years, we've had a lot of developments. With various technologies, from 3G, 4G, and now 5G, there is a 10-year cycle with these upgrades, we see that now with the introduction of 5G.
5G is also not moving in a homogenous manner. There is real excitement around 5G when it comes to the multitude of possible use cases in the future. For example, network slicing, which will become an enabler for many interesting types of services in most industry verticals. The number of possible use cases has exploded over time. If you look at the number of devices, anything that can be connected to the internet is now becoming connected. As that number increases, 5G will play an essential role in providing that assured connectivity.
Traditional vendors have been doing things in their own way with vendor lock in, but Open RAN has brought about disaggregation of hardware and software. We've seen this already in core networks and now it's moving to the access. Its providing a choice for operators to avoid having to procure from the same vendors and get further locked in. Looking forward, as an operator, if/when you will want to expand your network, you will have a choice. You'll be able to buy off-the-shelf hardware and use it with the associated Open RAN software. The net result is that the interactions we have with operators are moving from a supplier/customer transaction to a collaborative partnership. That's what makes Open RAN very exciting.
Looking at it from the perspective of network capacity, how do you see operators preparing for spikes in demand?
Operators themselves, over the last few years, have had challenges. Over the Top (OTT) applications such as WhatsApp and others have become extremely popular with mobile users. The operators found themselves having to provide the necessary infrastructure with the desired quality but without necessarily being able to enjoy the revenue from these OTT services. As a result, operators have had to become more efficient because they have to provide the "plumbing" for these increasingly bandwidth-intensive services with a revenue that hasn't increased accordingly. Open RAN allows them to leverage their ecosystem while building and operating more efficient networks.
Operators are also excited to talk to us about another key innovation from PW, RAN Centralization. This approach facilitates the centralization of processing and transforms the base station into a purely mechanical site resulting in additional benefits for the operators in terms of power and spectrum efficiency as well as simplifying field operations.
Instead of operating under a paradigm in which they must perform network optimization at the site level, operators will now be able to perform these functions at the cluster level, with up to hundreds of potential sites covered by a single cluster. The result is much more efficient processing at the center that delivers operational efficiencies, as well as energy efficiencies which are a big part of the global agenda right now.
According to data from the GSMA, mobile operators consume around 1% of global energy. While 1% may seem a small number, on a global scale it represents huge levels of energy consumption. If we can make mobile networks more energy efficient, we will be able to make a real impact on global power consumption.
As I mentioned earlier, RAN Centralization offers huge benefits in terms of spectrum efficiency, which solves a huge problem for operators. Operators can go about using their existing spectrum, in a much more efficient way.  As their network expands, they don't need to keep adding more sites since they have a better utilized network. Typical network utilization today with MNOs is around 15%. What other industries do you know that can sustain such low levels of utilization? If utilization can be increased from 15% to, say, 30%, this will have a significant impact on the way operators pursue the build-out and expansion of their mobile networks.
How do you stay current on the latest advancements and developments in the Open RAN field? How do you implement these in your day-to-day life?
In my position, to keep up with all the advancements in our space, I must do a lot of reading. Thankfully, the beauty of the digital age today is that everything's available online.
My reading "checklist" can be broken down into a few elements. First and foremost is what we're doing as a company in terms of innovation; it's sometimes actually hard to keep track of it all.  Next, given where we are as an industry, there's a lot of debate and opinions about the way forward so it's important to follow these discussions; only once you have that perspective of different opinions from incumbents, operators and newcomers you can form your own opinions. The biggest part of my learning, though, is really through the direct conversations I have with customers and prospects. There's no better way to really understand the pain points than by interacting directly with the customers who are experiencing them; simply listening closely in order to fully comprehend the challenges they face.
It's like a puzzle that you constantly try to piece together, except that it is not static; it's constantly changing.
With all the hype surrounding Open RAN, what do you think is holding it back from being more widely adopted?
Open RAN is a journey that started a few years ago. Parallel Wireless has been involved in a significant number of trials that began with lab tests and slowly graduated from lab trial to field trials to specific use case- based POCs and finally full commercial deployments.
We're now at a point where we can demonstrate the KPIs that operators request to see. So when we talk to customers today, and they are interested in running a POC to see the system in action, we can reply by simply offering to take them to an operator with a similar setting where they will be able to see it all in real operation instead of spending time and money on a simulation.
Like any other tech, you go through the initial hype, then a bit of disappointment, and then large-scale development. We're at the point now where our conversations are around larger-scale deployments.
Where do you see Parallel Wireless headed?
The one thing that absolutely excites me is the focus on innovation. Open RAN itself is a phenomenon that has been around for a few years now. It's one thing is to be a leading Open RAN provider, but one must innovate, innovate, innovate.
That is the part that gets me excited most. In the context of what we do, it's all about that innovation. Whether it's RAN Centralization, energy savings, automation or other areas, we are enabling operators to do things differently and contributing to the ecosystem. If you look at the journey of Open RAN and what some of the large operators are saying, there's no doubt that it will play a big part in the future of radio access networks. The industry needs more diversity and choice in this space.  We believe we have a differentiated Open RAN solution that can coexist with the legacy deployments. That is why I think we will be one of the leaders in this space.